My name is Alisha Burger and I am currently the Youth Director at California United Church of Christ. My husband and I have lived in the California area most of our lives. We have been married for 20 years and share a 17-year-old son, Garrett. My passion is kids. I love spending my spare time watching Garrett and all of the other kids do the things they enjoy – whether it be sports, singing in the choir or other activities they can find to do.
I wanted 6 kids, but was only able to have 1, therefore, I do whatever I can to look after all of the other youth in my life. On many occasions, you will find our house full of youth and that makes me proud. I also cherish my family. We are a tight-niched family that spends as much quality time together as we can.
Professionally, I have worked for Missouri Care for the past 12+ years providing Marketing and Outreach to community partners/ organizations who provide services to low- income families and children in the State of Missouri. I love my job because I get to spend it helping families, especially children. I have been working for Managed Care for 20 years. I also put my time in at Moniteau Co R-1 School, helping my best friend, Susie, in the Central Office.
I find myself doing lots of community work, such as sitting on the boards of the Quarterback Club and Boys Basketball Club and in the past on the California Stingrays Swim Team Board. Our family is actively involved in 4-H and FFA as well.
I joined California UCC as a member when Jeremy and I got married in 1999. I was baptized at that time too. In 2018, I accepted the position as Youth Director at the church and though I feel like I don't do enough, I love seeing our youth grow as Christians and learn about the importance of faith in everyday living. Spending time with these kids is an honor and I find myself learning from them most of the time. Youth Group is what you make of it…It consists of the youth within our church as well as others ranging from 6th grade to 12th grade.
We work to have some type of activity each month, some months more than one activity. We also meet as a group every Sunday night at 6:30 pm at the church to learn and have discussion using Right Now Media. I am excited to get up every morning to see what each day holds and I look forward to being with youth every day. I look forward to working with our youth in the coming years and connecting those children with God through fellowship and worship!
YOUTH FELLOWSHIP
Youth ministry is offered to tweens and teens who are in the 6-12th grade. The youth of California UCC meet regularly to experience faith, fun, and Christian fellowship. Monthly gatherings feature a blend of age appropriate, service oriented and social activities. Parents are actively involved in planning and supervising events. Courtney Hees is our Youth Coordinator.
CONFIRMATION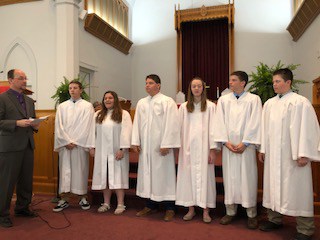 At California UCC we offer Confirmation for those in the eighth grade culminating in the reception of full church membership. Confirmation lasts approximately six months during the school year and involves the study of the Hebrew Bible, New Testament, the Apostles Creed, the Lord's Prayer, and the Ten Commandments. The Evangelical Catechism is furnished to each student and is used as a guide for the course.
God's Singers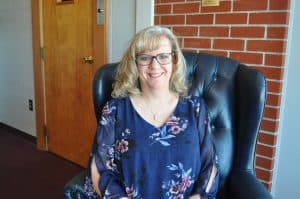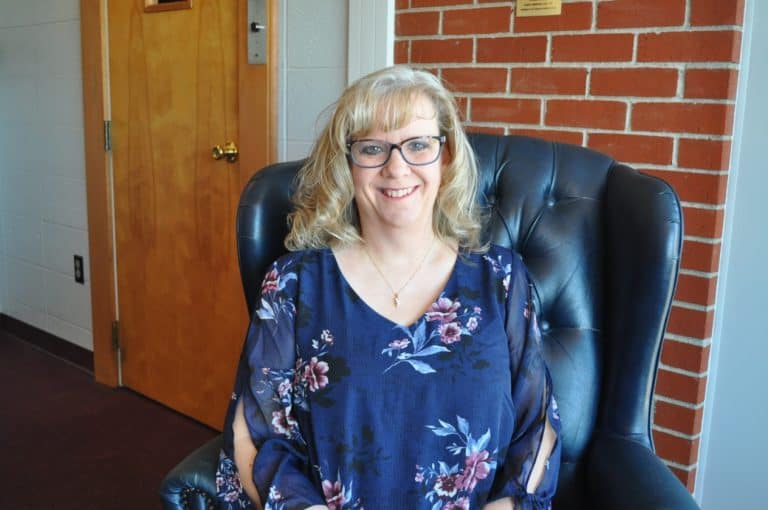 I'm Connie Bestgen. I have been a member of the United Church of Christ my entire life. My husband, Jay and I have two grown children, Morgan and Wyatt. We live on a farm east of California and we raise beef cattle besides both being fulltime employees of the State of Missouri.
I have been directing God's Singers for two years and I really enjoy it. I actually directed the youth choir for a couple of years when I was in high school. So now I have children in the choir whose parents were in the choir I directed years ago. God's Singers is for kids from first through seventh grade. We meet on Wednesday nights during the school year and sing one Sunday a month. The kids are very enthusiastic and they are a joy to work with.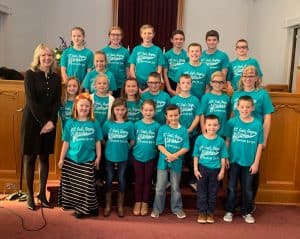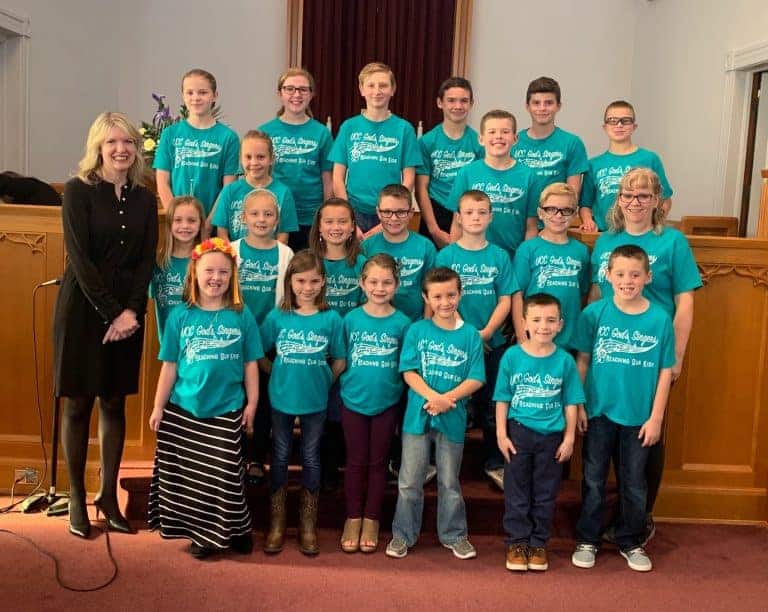 The children's Choir is known as God's Singers.  It is open to children in 1st-7th grade under the direction of Beth Dampf. They meet on Wednesday evenings through the school year.
The choir performs one Sunday a month, September through May. During the 2016-2017 school year, God's Singers became part of the Wednesday evening R.O.K. (Reaching Our Kids) program from 6:30-7:30 p.m.  This program included Bible stories and crafts, as well as singing.
Sunday Morning Bible Study
Middle Grades 4-7 taught by Courtney and Johnny Cassil meet on the upper level on the left down the main hall.
Grades 8-12 taught by Judy Burger meet on the upper level, on the left down the main hall.
R.O.K. (Reaching Our Kids)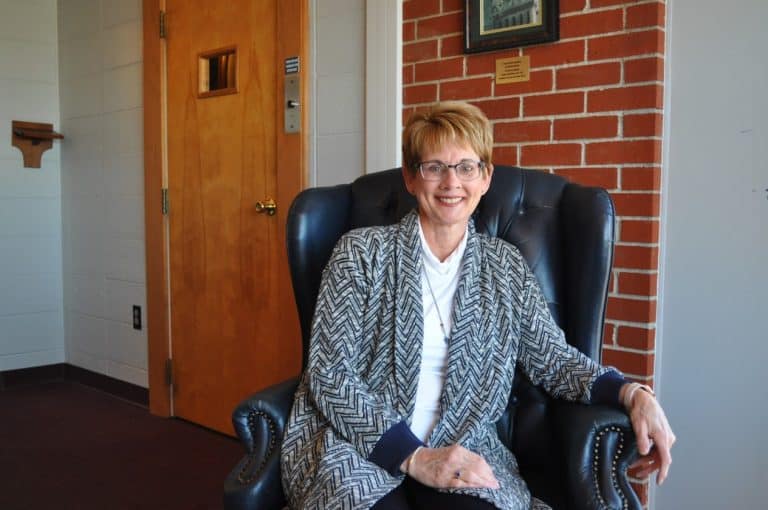 I joined the United Church of Christ of California in 1990 when I married my husband Steven. I am originally from Iowa and was living in Columbia when I met Steven on a blind date! Over the years, I have spent my time as a stay at home mom raising our two sons (Grant and Luke), along with 1st volunteering and then working part-time at the Elementary School along with volunteering for and also leading many different church programs at the church.
Now that our sons are grown and our family has grown to include our daughter-in-law Bailey (married to Grant), I am a housewife and volunteer my time at church. My favorite things to do are spend time with family and good friends, travel, fish, read and jigsaw puzzles. I love the outdoors and working in my yard. Along with leading these two groups, I also teach Sunday School and sing in the Senior Choir.
Beginning on the Wednesday following Labor Day, this group meets on Wednesday evenings during the school year from 6:20 to 7:30. Our last Wednesday night meeting for the school year is the Wednesday before Ash Wednesday. God's Singers does continue to meet until May. The group is for all children and youth in grades 1st through 7th. Their friends are also welcome to join the group. We begin with a time of Bible Exploration, followed by God's Singers practice, and we end with our crafts/ activities time and a prayer. We always welcome adult volunteers to help us or be willing to substitute when our current adult leaders are unable to attend. Working with the children has been a very rewarding experience.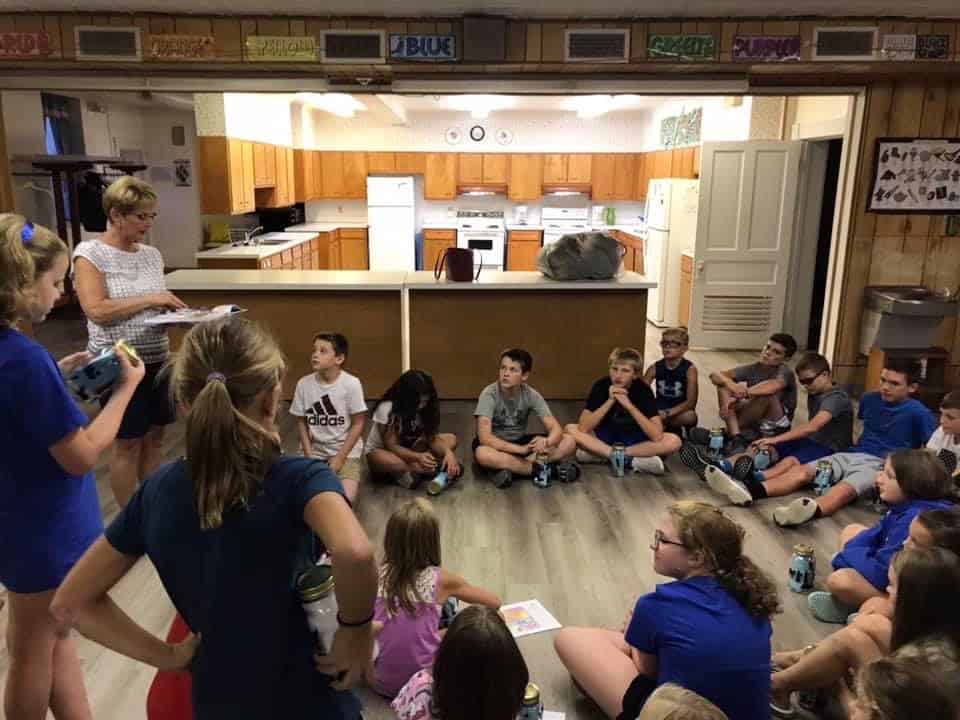 4-Year Old Playschool
California UCC hosts a 4 year old playschool on Tuesday and Thursday mornings during the school year. It is open to anyone in the community. They meet in the Fellowship Room and are taught by Sandra Arnold and Karey Freiner. For more information or to enroll your child, please call 796-2832.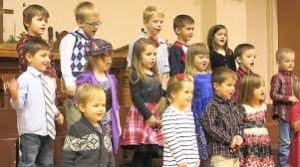 The children performed Christmas songs for family and friends in December, 2014.
The United Church of Christ Playschool is currently enrolling for the 2020-2021 school year.  One of our goals is to provide an introduction into the school years through a positive playschool experience.  Any potty-trained child who is four years old before August 1, or five years old and not enrolled in kindergarten is eligible for enrollment into Four-year old Play School.  This program serves everyone in our community.  If you or someone you know is interested in enrolling their child into our Playschool program, please call Playschool at 796-2832.  We appreciate all referrals!  And of course, if you have any questions, please feel free to call.  Thanks!  Ms. Karey & Ms. Sandra
5/1/2015