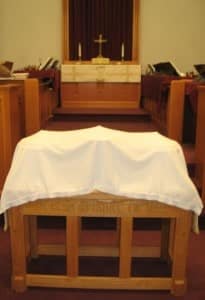 At California UCC, we observe two sacraments – baptism and Holy Communion.  Through baptism and faith in Christ, one may become a full member of Christ's body, the church. Baptism is offered to adults and to infants and children of the faithful who wish to get off to a right start in their spiritual journey as a family.
Communion is open to all who believe in and wish to follow Jesus. Church membership is not a prerequisite for sharing at the Lord's Table. Our communion schedule generally follows special days in the Church calendar such as the first Sunday of Advent, Christmas, Epiphany, Ash Wednesday, Maundy Thursday, Easter, Pentecost, and All Saints Day.
The sacrament of baptism is a visible sign of God's grace, a sign that the promise of the gospel is not just to us but to our children into every generation. Baptism with water and the Holy Spirit is the mark of their acceptance into Christ's church, the seal of their participation in God's forgiveness and the beginning of their growth in Christian faith and discipleship.