2018 VBS…July 30 – August 3  from 6:30-8:30 p.m.
This annual event involves the whole congregation for a week in July each summer. It centers on a theme that helps children from 3 years old – 5th grade to learn more about Jesus and their faith. Youth and adults serve as teachers and leaders.
****************************************
2017 VBS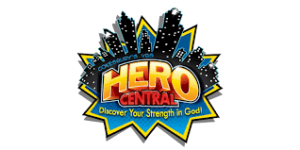 Entry into Friendship Hall.                                              Decorations inspired by the theme.                         Stage in Friendship Hall.

Registration – 71 attended Monday night.                                                  Opening for all ages.  Each night the offering goes to Heifer Project.

                                                                                  Singing songs enthusiastically  under the leadership of Ginny Medlin and Andrea Hughes.


Watching video presentation on being a 'Hero' for God.  Flame the puppet helped bring the message.  Kids respond with gusto practicing the Hero Bible Verse:                                                                                                                                                                                                   "Do Good, Seek Peace, and Go for It" Psalm 34:14b
          Ninja Turtles (Preschoolers) listen to and act out the Bible Story.  The Ninjas were led by VanDee Miller, Spenser Deeken, and Missy Gerhart with several helpers.

Warriors group enjoy building a box tower as they try to make it as tall as possible – team work and problem solving! Other group members have a race to see how fast they can put on super hero costume pieces and tag the next in line. The games/outdoor activities were led by Kendra and Brett Hall and helpers.


Craft time for the Guardians group.  Crafts were plan and led by Kim Robertson, Kristin Everett, and Lisa Milligan.

                                                                          The Avengers Group discuss the Bible story from 1 Samuel 16: 1-12 when Samuel anoints David.  Theme:  Superheroes have heart.  Bible Study is led by Allan Mortenson, Carole Barbour, and Jo Ann Cantriel.
Time for Food and Fellowship
                                                    Thanks for the treats!  Kitchen staff: Rhonda Mortenson, Lexi Hall, Staci Nichols, and Amy Mouse

Everyone had a picture taken to remember their VBS experience. Christine Koestner served as photographer. One little Ninja needed encouragement from Mom.

                       Ninjas color chalk drawings of themselves as superheroes.  They put a heart on their chest because superheroes have heart.

Superheroes (Guardians) use their brain power to solve problems.  Here two teams of players try to pass a book to a teammate while an opposing team player (standing next to book holder) tries to stop the pass.


The Avengers are working intently on their craft projects.  Connie Bestgen and Pamela Hill were their leaders with helper Ross Deeken.


Everyone kept their finished craft projects together.            John Wolken and Cameron Meyer led the Warrior group shown here at Bible Study.


The Ninjas make Super Hero paper bag puppets during craft time.


The Warriors at craft time with assistance from their leaders.


The Guardians listen to the story about Jesus going to the temple when he was 12.  The third picture shows the children walking in place for a minute to simulate walking to Jerusalem.  Theme:  Super Heroes have wisdom.


The Avengers play a puzzle-type game, where one player closes her eyes while the others walk around her.  Then they wait to see if she can figure out who tapped her shoulder.


Each evening ended with a closing.  Capt. Shield reviewed with the children what the Bible story was about.  She told them how much the offering for the evening was and she asked them what animals they wanted to buy for Heifer Project International.  The generous offerings will purchase a water buffalo, a llama, sheep, ducks and perhaps more.  They ended the evening in song.
Final Evening with Fish Fry
Enthusiastic Opening and singing


Captain Shield and sidekick Flame reminder the children that Super Heroes for God have Heart, Courage, Wisdom, Hope and finally Power.  Rev. Allen Bailey from First Christian Church talked to the children about where the power comes from – the Holy Spirit.  The Bible story was the Pentecost story.  Super Heroes are God's Heroes because they love and serve others.


Children received some goodies and all the craft items they made during the week.


Parents and grandparents were an attentive audience.


Time for a feast and fellowship! VBS is over for another year.


VBS was once again under the direction of Courtney Cassil and Becky Schneider with assistant Tammy Kilmer.
    Thanks to all who helped in any way or donated items for snacks or crafts.
2017 VBS by the numbers:   71 children enrolled, averaged 66 per evening
                                                                   35-40 helpers each evening
                                                                   Large attendance for Friday night Fish Fry
                                                                    Total offering for the week for Heifer Project International = $ 893.82