This annual event involves the whole congregation for a week in July each summer. It centers on a theme that helps children from 3 years old – 5th grade to learn more about Jesus and their faith. Youth and adults serve as teachers and leaders.
****************************************
2016 VBS…July 18-22  from 6:30-8:30 p.m.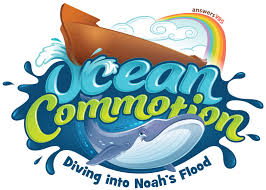 VBS was once again under the direction of Courtney Cassil and Becky Schneider.  
Photos from Monday:  Bible verse:  Genesis 6:8 "Noah found grace in the eyes of the Lord"

Registration                                                                              Mural on Stage                                                                   Young helpers prepare experiment

Opening for all ages.                                                                         Singing songs enthusiastically                                                      Decorations
Learning life lessons from Noah:                                                         
                                                            Noah was a good person who followed God when those around him didn't.
* Standing for God (even when it means standing alone)
R: Simulating the sound of rain getting stronger

Science experiment using oil and water showing oil floating on water.                                                                Making lighthouses that point the way in a storm, as                                                                                                                                                                                                         God protects and guides us in or lives.

Healthy snack                                                                                                                              Time for Food and Fellowship
Each night the offering goes to MCMC Buddy Packs.       Preschoolers do crafts, too.                                 Kiddos make parachute move like ocean waves.  
Photos from Tuesday:  Bible Verse:  John 14: 15  "If you love me, keep my commandments."
  * Obeying God (no matter what)   

L: Elementary kids learned that Noah followed  God's command to build the ark. Children pretended to be ark inspectors and 'inspected' an imaginary ark and talked about the details  and features of the ark.               R:  Preschoolers acted out building the ark.

More water games on a hot night.                                                                                     Saying a prayer before snack time…

Helpers eat, too!                                                                                       Yummy treats – ice cream floats – great for a hot night!

Thanks for great snacks this week!                                      Craft projects waiting to be finished.                                 Lighthouses remind us God guides us.

Preschoolers decorate crosses with sea shells to remind us God loves us and takes care of us just like he did for Noah and his family.
Photos from Wednesday:  Bible Verse:  Psalm 31: 14  "I trust in you, O Lord; I say, 'You are my God.'"
Another Life Lesson from Noah:    

* Trusting God (He's a life saver)
L:  Noah listened to God and trusted
that He would protect his family.
R:  Even the snack echoed the Bible
story.
Running a relay race and waiting turn in the shade.

Meanwhile, inside kids are stringing a bracelet…                                                                           …while leaders review details to keep VBS running smoothly.
Each evening closes with an assembly in Friendship Hall.  Once again we sing, review the lesson theme for the evening and review the Bible verses we've read.

Photos from Thursday:  Bible Verse: I Thessalonians 5:18a  "…in everything give thanks…."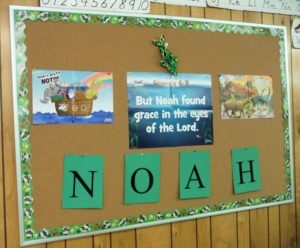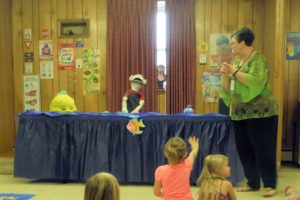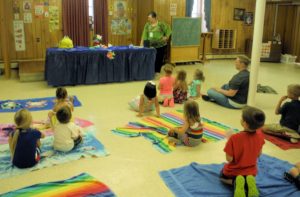 Noah was protrayed by a puppet to attentive preschoolers.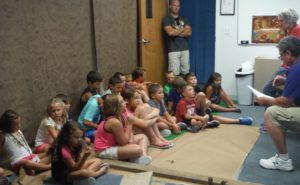 Last Life Lesson from Noah: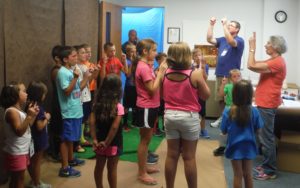 *Thanking God (in everything)
Elementary children were given a colorful eraser to remind them to remember the rainbow – God's promise never to flood the whole earth;  work carefully – maybe you won't need an eraser; if you do make a mistake – the eraser can wipe it away, just as God can wipe away our mistakes or sins.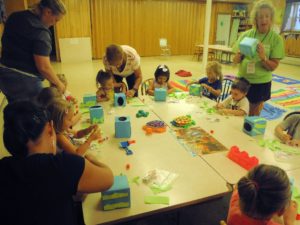 Everyone had a picture taken to remember their VBS experience.                                                     Last night to make and finish craft projects.
Thanks to all who helped in any way or donated items for snacks or crafts.
2016 VBS by the numbers:  74 children enrolled, averaged 65 per evening
                                                                   30-35 helpers each evening
                                                                    160 in attendance for Friday night Fish Fry
                                                                    Total offering for the week for MCMC Buddy Pack Program = $520.00