Palm Sunday Procession for children and youth to carry palms down the aisle in morning worship and lay them at the altar. (Pictures from 2016)
Easter Breakfast is served following the early service on Easter morning.  Photos from Easter 2015 showing tables set for the event.
Rally Sunday usually occurs in August when children begin a new school year.  They are promoted to new classes according to their age and grade in school. (See Sunday Morning Gathering for Rally Day 2016 photos.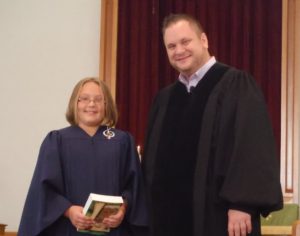 The Bible presentation to 4th graders usually happens the same day during morning worship. Michelle Sedgwick was present to receive her Bible on August 21, 2016.
Fall Party is a time for fellowship, food, and fun. This outdoor event is usually held in early October. Often it features a hayride.  In 2016, it also featured a pumpkin decorating contest.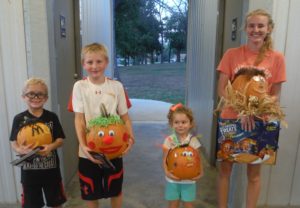 Pumpkin Decorating Contest Winners:
L to R:  3rd place tie – Caleb Howard & Adler Koestner, 2nd place – McKenzie Reed, & 1st place – Allee Koestner
Sock and Glove Tree allows everyone an opportunity to contribute socks, gloves, hats, and scarves to those in need. We bring these gifts during Advent and decorate a tree with them.  Photos from December, 2014.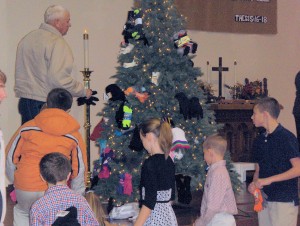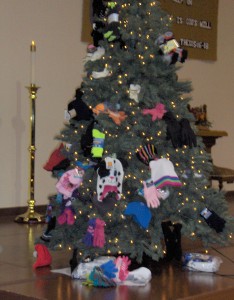 Cookies and Carols are enjoyed on a Sunday morning near Christmas day.
Children's Christmas Program involves all children and youth in presenting the message of the Christmas story. By tradition, it is usually presented on Christmas Eve. A special mission offering is taken.
Pictures from Christmas Eve, 2015: