The purpose of our Sunday School program is to bring people closer to God through Bible study, prayer and fellowship. Classes are available for all ages. We invite you to visit and find one that fits you best and incorporate it into your Sunday morning routine. We meet from 9:30-10:20 each Sunday.
Classes are available for age 2 to 100+
A nursery is available for children under 2.
Or if you prefer, children under 2 are welcome to join you in an adult class.
Make Plans to Participate – Beginning September 1 1 for 30 Weeks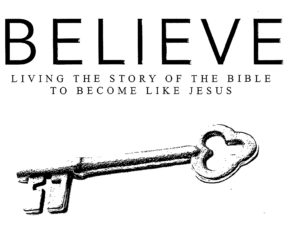 "What you believe in your heart will define who you become.  God wants you to become like Jesus.  This is who God created you to be.  It is the most truthful and powerful way to live."  Taken from Believe: Living The Story of the Bible to Become Like Jesus
"Believe is a 30 week video-based Bible study from the bestselling author and pastor Randy Frazee.  The study explores the 30 essential beliefs, practices, and virtues that every Christian needs to know and live.  Participants will learn how the story of the Bible helps us think, act, and become more like Jesus by examining key questions, studying Scripture, and learning practical ways to apply the concepts to everyday life."  Taken from the Believe Living The Story of the Bible to Become Like Jesus Study Guide"   See you each Sunday at 9:30 a.m.  ALL ARE WELCOME!
We are excited about the future of our Sunday School and hope you will join us every Sunday you are available to attend.
Sunday School is in the Ministry of Transforming Lives
We are called to serve God. To lead others to salvation through God's son Jesus Christ. And to offer prayers, programs, and financial support to those who worship within and beyond the walls of our church so that all might have the opportunity to have a personal relationship with our Savior and Lord.
This mission statement was approved at a Teachers and Officers Meetings this past year.