Contact Information:  Cargill Cares Food Pantry – call 573-796-6262 ** Project Share Resale Shop – call 573-796-1212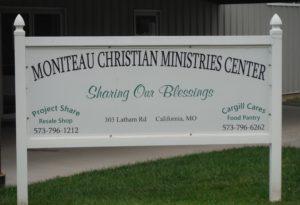 The "mission" of MCMC is to provide food & clothing for those in Moniteau County who are needy. Their services are located at 303 Latham Rd and those of you who have visited our facility know us as the Cargill Cares Food Bank & Project Share, a resale shop. We moved into this facility in Jan 2014.
You can learn more about these services on our Moniteau County Christian Ministries (MCMC) Facebook Page or please feel free to visit the Center in person to observe and ask questions about the services provided. You will be amazed at what you can find there!
Cargill Cares Food Pantry – We continue to be blessed with food items through the Central & Northeast Missouri Food Bank, local  donations, food drives, & many other supporting activities. Statistics for the first six months of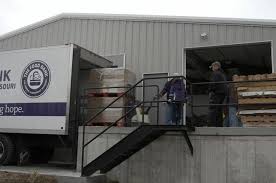 2016 show the Food Pantry monthly averaged providing 293 families (823 individuals) with food assistance. Volunteers sorted and distributed 221,822 lbs of food.  While school was in session in the spring of 2016, their "buddy pack" program averaged providing 209 children weekly in 5 area schools with food supplementation.
Distributions are made:
1st, 2nd & 3rd Thursday of each month from 3:00 p.m. – 5:00 p.m.
1st, 2nd & 3rd Friday of each month from 3:00 p.m. – 5:00 p.m.
3rd Saturday of each month from 9:00 a.m. – 11:00 a.m.
To receive services, please bring:
1) A Social Security Card for every member of the family
2) Something that connects you to your address such as a utility bill or driver's license.
For emergency assistance or to volunteer, call Barb Mannering at (573) 291-4405.
Project Share, the clothing resale shop, provides free clothing monthly to those requesting clothing assistance and enables those who cannot afford the high cost of clothing to buy new or gently used merchandise that fits their budget.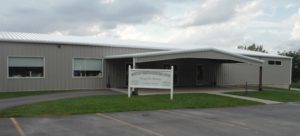 Store hours are:
Thursday and Friday from 10:00 a.m. – 3:30 p.m.
Saturday 10:00 a.m. – 2:00 p.m.
Volunteer sorters are always needed for the Project Share resale shop. Sorters help inspect donations to determine whether they can be included in the resale shop or forwarded to the recycling center. Sorting is done every Monday & Tuesday beginning at 10:00 a.m. and all help is appreciated.
For emergency assistance or to volunteer, call Judy Barbour at (573) 230-2316.
The volunteer hours to accomplish both the sorting & stocking of Project Share and the Cargill Cares Food Pantry MUST BE ACKNOWLEDGED! OUR VOLUNTEERS ARE OUR BIGGEST ASSET!!  God has provided us with an opportunity to lend a helping hand, a smile or hug as needed, to help rebuild integrity & pride in families that are struggling.  Just knowing someone cares makes all the difference.
The food pantry is welcomes church groups, youth organizations, or individuals to volunteer–if interested call Barb @ 573-291-4405
Anyone interested in helping at the resale shop may call Judy @ 573- 230-2316, we are always working Monday & Tuesday starting at 10 a.m. – whatever time you can give.