Youth ministry is offered to tweens and teens who are in the 6-12th grade. The youth of California UCC meet regularly to experience faith, fun, and Christian fellowship. Monthly gatherings feature a blend of age appropriate, service oriented and social activities. Parents are actively involved in planning and supervising events.  Courtney Hees is our Youth Coordinator.
Spring 2016 Youth Trip to Branson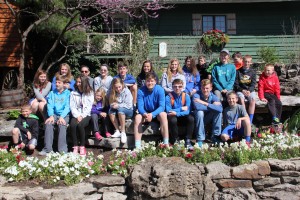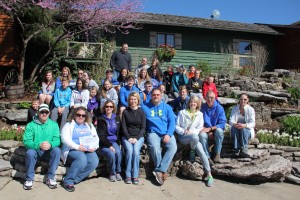 Our youth and their sponsors attended the Christian Youth Weekend in Branson, April 1-3.
Honoring our CHS Graduates
By tradition, members who are graduating seniors dress in their caps and gowns and are recognized in worship with a gift and a prayer at this special accomplishment in their lives.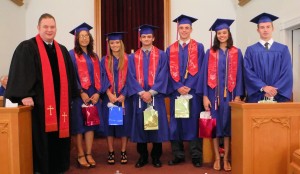 Congratulations to our 2016 graduates! L to R: Alissa Stauffer, Renee Roberts, Dylan Ratcliff, Landon Mouse, Sarah Bryant, and Dylan Ash.  Missing from the photo are Sean Ajtaji and Ally Meisenheimer.
Younger Children
Children of all ages have opportunities to participate and get involved in the life of our congregation. Starting with preschoolers up through the elementary grades, children are invited to come forward each Sunday morning for a special message just for them. High Schoolers prepare special puppet presentations that they present approximately once a month.
Children in grades 2-7 may participate in Sunday morning worship by being an acolyte or singing with the God's singers.