The women of the UCC of California gather to strengthen their own spiritual life, to nurture the life of our church family, to pray together, and to enjoy the fellowship of believers. They meet on the third Wednesday of each month at 1:00 PM for devotion, Bible study, a mission project, business meeting, and fellowship. Pastor Lovins leads the Bible study February-November. There are also Helpers on Call who are not active participants, but support Guild efforts and projects when needed.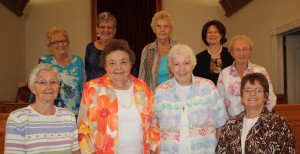 The Guild hosted the World Day of Prayer in Friendship Hall on March 4, 2016.  The program was written by the women of Cuba.
The Guild is active in many projects throughout the year. These include:
serving celebration of life dinners for church family and friends
hosting the Confirmation reception
leading a birthday party for California Care residents
delivering gifts and cookies to our church family members in care centers
serving a meal for the annual Community Service Project
cleaning the kitchen and other such projects as needed
supporting and promoting the Festival of Sharing with monetary gifts, kits, and Best Choice labels

They also willingly take on other projects in the church as needed or asked to do.
The Guild officers for 2018 are:
President – Joyce Rohrbach
Vice President – Carole Barbour
Secretary – Mary Burger
Treasurer – Mary Ann Kueffer