All men of the church are invited and encouraged to be a part of the Brotherhood who meet the fourth Monday evening most months at 7:30 PM. Typical meetings include a devotion, hymn singing, informational and inspirational program, closing with fellowship and refreshments. They take an offering each month to support their various projects around the church and our community.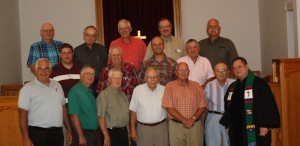 The Brotherhood are involved in a variety of projects and programs throughout the year. These include:
Community service project with the Methodist Men and Tipton Correctional Center inmates     Picture shows Tipton inmate at Sunday worship sharing what the week of service meant to him.
Family fish fry meal with the Central UCC Brotherhood in Jefferson City
Photos from the 2016 Annual Fish Fry Fellowship Gathering
Plenty of good food and fellowship…
 … and Entertainment
Rohrbach Brothers open the program – then hymn sing.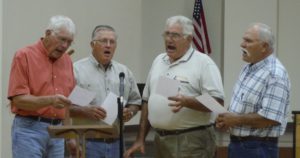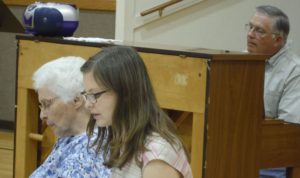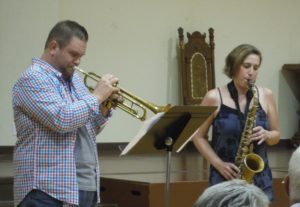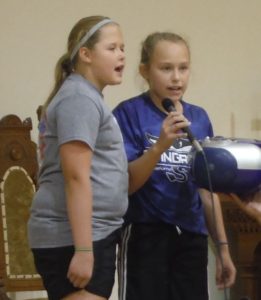 Above:  Harriet Bryant and Lynne Davis sing as Larry Rohrbach plays the piano for the hymn sing.
Left:  Sisters Isabelle & Gabby Rohrbach sing a duet.
Right:  Rev. Lovins & Michelle Ajtaji perform "The Prayer".
Below: Phil Lewis introduces the final selection and accompanies Rev. Lovins and Michelle.
Decorate the sanctuary and outdoors for Christmas
Christmas Caroling to care centers and invited homes
They are often involved with the community Crop Walk and help around the church or assist with other projects as requested.
The Brotherhood officers for 2018 are:
President – Abe Rohrbach
Vice President – Jerry Wolfrum
Secretary – Robert Barbour
Treasurer – Tony Barry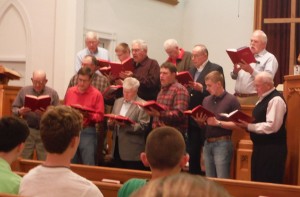 Traditionally, the Brotherhood provides a special anthem during a Lenten service each year.