Gathering and Visiting before Dinner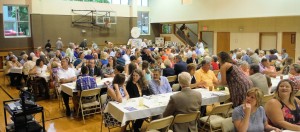 Brad Friedrich set up a slide show of historical photos for all to view and enjoy.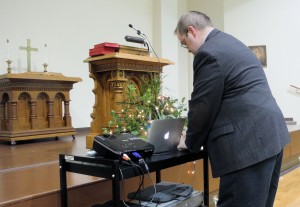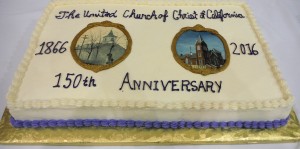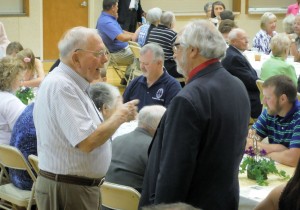 Left: Dick Spieler (Former Conf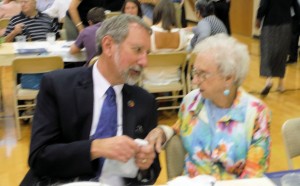 erence Moderator) and Rev. Dale Parson (Associate Conference Minister)
Right: Rev. Gary Schulte and Alberta Rich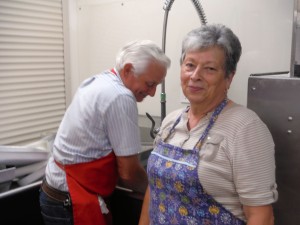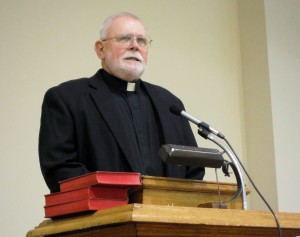 Left:  Rev. Howard Ellis gave the table prayer.
Right:  Letha Peck prepared a delicious dinner of roast beef and pork roast, mashed potatoes and gravy, corn and green beans, salad and rolls.  Larry Peck assisted her.
After dinner, those attending enjoyed visiting and viewing Historical Displays  including the 100th Anniversary float that was restored for the occasion.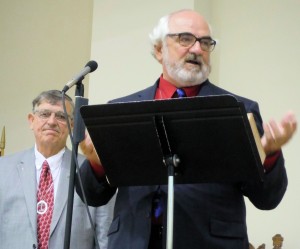 After dinner, Rev. Dale Parson, Associate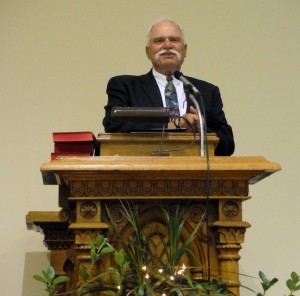 Conference Minister, brought greetings and best wishes from the Conference.  With him is Ron Wendle, Western Association Chairman who also brought greetings from our fellow WA churches.
Norman Rohrbach served as Master of Ceremonies for the program after dinner.  Several special guests from the past shared memories of their time here at UCC of California.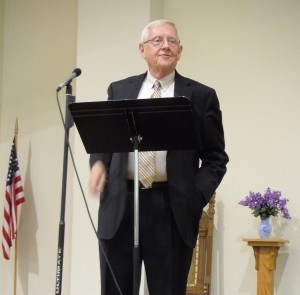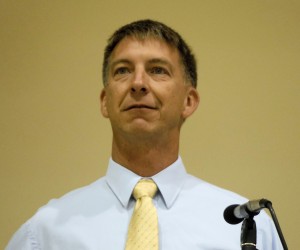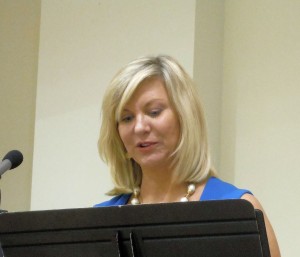 L to R: Rev. Don Sabbert, son of the congregation, appreciated our support growing up.  The children of Rev. Marvin Kirchhoff: Paul Kirchhoff and Sharon Kirchhoff Hilpert told the gathering they were literally sitting in their childhood home.  (The parsonage where they lived as children was torn down to make room for Friendship Hall.)  They both said they had fond memories of growing up in this church.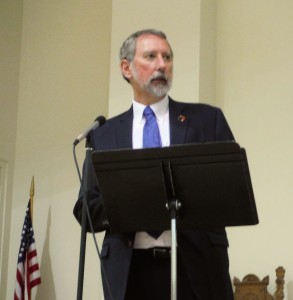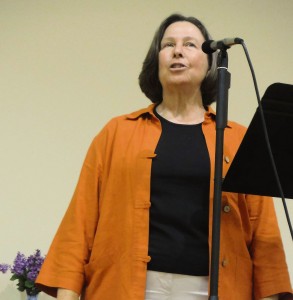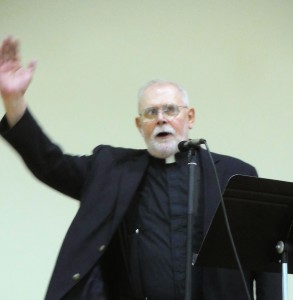 L to R:  Rev. Gary Schulte shared how good it was to come home to a church that was so important to his young family.  He serves as the New Hampshire Conference Minister.  Rev. Collette Jones told how much she learned from the senior pastors with which she served.  She is currently the Interim Minister in Hartsburg.  Rev. Howard Ellis treasures the friendships made while serving as guest minister.  He continues to be active in pulpit supply in area churches.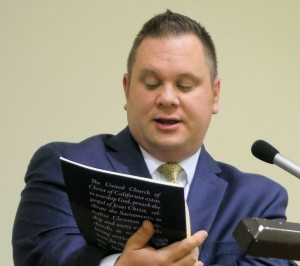 L: Rev. Andrew Lovins thanked all the guests for helping make the anniversary

celebration memorable.  He thanked those who contributed to the anniversary booklet and reminded everyone to get their copy.
R:  Consistory President, Becky Schneider, thanked all who had worked on the various committees to plan and prepare for the anniversary celebration.  Lastly, she thanked all for coming.  Many people continued to visit after the program was over.
Peter and Grace Dampf get reacquainted with the pastors that baptized them.